Swedish Champion


Treo was the keeper from our first litter. She was a very special girl in all ways and loved her family more than anything. She was very sweet and would spend the perfect day asleep in our laps.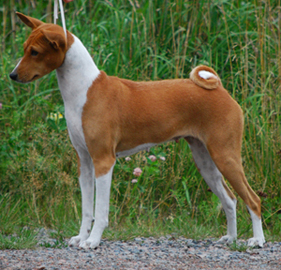 January 11, 2003 ~ April 10, 2017
Breeder: Maria Kindberg, kennel Shahrans
Owner: Maria Kindberg, kennel Shahrans
Treo has been my (Therese) first show dog and has really liked to show. She has many nice winnings in the rings including a Runner-Up Best In Show (BIS-2) at a national show, is Swedish Champion, has several BOB and BOS, placements in Best In Show from puppy to veteran class, BOS puppy 4-6 months at the Swedish Specialty 2003, BOS African Match (only beaten by her father) at the Swedish Specialty 2005, BOS veteran at the Swedish Specialty 2011 and BOS veteran 10+ at her last show, the Swedish specialty 2013. She was #4 Top Winning Basenji bitch in Sweden 2007 from very limited showing. She also has top-5 placements on Lure Coursing competitions.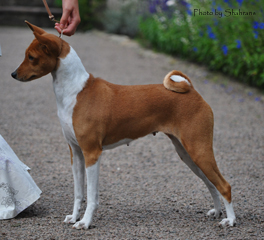 Health test results:
Eyes: CLEAR (2005 & 2007)
Hips (HD): A / Excellent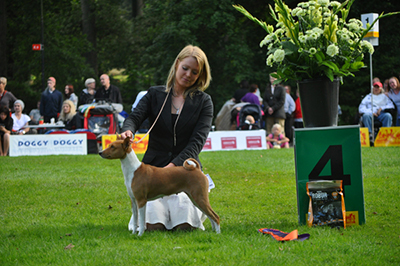 Show results:
2 x BOB
4 x BOS
3 x CC
2 x CACIB
1 x R-CACIB
3 x BOB veteran
3 x BOS veteran
CQ & placements in 'best bitch'
Swedish Champion
BEST IN SHOW 2 - SSUK Borås nat. 2007
BEST IN SHOW 4 veteran - SKK Sofiero nat. 2011
BOS veteran - Swedish Basenji nat. Specialty 2011
BOS veteran 10+ - Swedish Basenji nat. Specialty 2013
BOS African Match - Swedish Basenji nat. Specialty 2005
BOS puppy 4-6 months - Swedish Basenji nat. Specialty 2003
Selected to compete for 'best head' - Swedish Basenji nat. Specialty 2007
4 x BOB puppy
1 x BOS puppy
BIG-2 puppy - Åby unoff. 2003
BIG-4 puppy - Borås unoff. 2003
#4 Basenji Bitch Of The Year 2007 - Sweden
Offspring:
SE CH SE LCCH Shahrans Moondance To Karimba
Shahrans Billbuza In Red Suit
SE LCCH Shahrans Rafhaela In Pj's
Shahrans Joy To The World
Shahrans Frosty The Snowman
SE CH DK CH DK VETCH KBH VW-17 KBH VW-18 KBH VW-19 SE LCCH Shahrans Jingle Bell Rock
Shahrans Frosty The Snowman

Ch Faraoland Esenjo Rafhael
Ch Akuaba The Cat's Pajamas
Elija Of Esenjo
Ch Akuaba's Tiger Lily
Ch Nectar Suprem Out Of Africa
Ch Hot Stuff Out Of Africa
Ch Magic Potion Out Of Africa
LCCh Yulara Gwai-Billa
Ch Bulldobas Whipper-Snapper

Ch Bulldobas Wee Woodstock

Ch Borasus Juel Of The Sun
Ch Maya-Mayi
Ch Kampala Shaaka
Ch Yulara Anemone