Swedish Champion
Danish Champion
Danish Veteran Champion
Copenhagen Veteran Winner 2017
Copenhagen Veteran Winner 2018
Copenhagen Veteran Winner 2019
Swedish Lure Coursing Champion (unoff.)


Rocky is our big teddy bear and has a heart of gold. He charms everyone with his dark barooo and funny manors. He was our keeper from our "Christmas litter" and has been so special from the day he was born. He is the dog that charms all visitors. He is very social, loves people and to be cuddled with.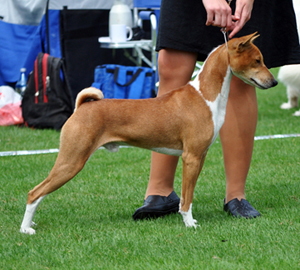 Born: December 27, 2007
Breeder: Maria Kindberg, kennel Shahrans
Owner: Therese Kindberg, kennel Shahrans
Inside the house Rocky is a very cool boy that loves to sleep with all four paws in the air. Outside he loves to chase everything and he does that in the rings aswell making him impossible to show most of the time... Because of that he had a long break from the showrings but made a comeback as a veteran with lovely results! He gained his Swedish, Danish and Danish Veteran Champion titles, the Copenhagen Veteran Winner 2017, 2018 & 2019 titles and got top placements on almost each show and with many BOB veteran and BIS veteran placements including BIS veteran at almost 11 years of age! He still likes to chase the other dogs though... ;) As a youngster he was 4:th best male and best red/white male at the Norwegian Basenji Specialty show 2009 from junior class, BOB puppy red/white and BEST IN SHOW 3 puppy at the World Basenji Specialty's Colour Match 2008 and Male Puppy Of The Year 2008 in Sweden. He has also been a great Lure Coursing dog (no wonder with his chasing abilities...) and has many BOB, unoff CC's and gained his unoff. title at the first try. He kept himself among the top placements among the youngsters until he was too old to compete. At 12 years of age he retired from the showrings as well, still as active, fit and healthy as ever though!
| | |
| --- | --- |
| | |
Rocky is out of SE CH DK CH KBH VW-14 KBH VW-15 Faraoland Saga Zulu and our own SE CH Shahrans Aritza. He is 18,75% new African through both his parents. He has always had a very active and healthy every day life.
Show results:
3 x BOS
4 x CC
3 x Veteran CC from Denmark
1 x Veteran Club-CC from Denmark
1 x CACIB
8 x R-CC
1 x R-CACIB
1 x BOS junior/intermediate
Many CQs & placements in 'best male'
16 x BOB veteran
4 x BOS veteran
BEST IN SHOW veteran - SSUK Borås nat. 2018
BEST IN SHOW veteran - Fuglebjerg nat. 2017
BEST IN SHOW 4 veteran - SKK Backamo nat. 2016
Swedish Champion
Danish Champion
Danish Veteran Champion
Copenhagen Veteran Winner 2017
Copenhagen Veteran Winner 2018
Copenhagen Veteran Winner 2019
'Best eyes' - Swedish Basenji Specialty 2021
BOS veteran - Swedish Basenji Specialty 2019
BOS veteran 10+ - Swedish Basenji Specialty 2019
Best junior male, 4:th best male & best red/white male - Norwegian Basenji nat. specialty 2009
BOB puppy red/white & BEST IN SHOW 3 puppy - World Basenji Specialty Colour Match 2008
5:th best male puppy 6-9 months - World Basenji Specialty nat. 2008
3 x BOB puppy
1 x BOS puppy
BEST IN SHOW 2 puppy - SK Varberg unoff. 2008
BIG-2 puppy - Tjolöholm unoff. 2008
#1 Basenji Male Puppy Of The Year 2008 in Sweden
#3 Basenji Puppy Of The Year 2008 in Sweden
Lure Coursing results:
3 x BOB
4 x unoff. CC
Top-5 placements
Lure Coursing license
Unoff. Swedish Lure Coursing Champion
#4 Lure Coursing Basenji Of The Year 2009 in Sweden
Health tests:
Eyes: CLEAR (2009), Retinopathy (2016)
Hips (HD): B / Normal
Fanconi Syndrome: DNA tested CLEAR/NORMAL
Ch Faraoland Saga Zulu
Ch Faraoland Nile Wild Nebukadnessar
Ch Faraoland Hadiyah Out Of Africa
Ch Indian Summer Out Of Africa
Saga Out Of Africa
Avongara Imba Tena
Ch Main Attraction Out Of Africa
Ch Shahrans Aritza
Ch Faraoland Esenjo Rafhael

Ch Akuaba The Cat's Pajamas

Ch Nectar Suprem Out Of Africa
LCCh Yulara Gwai-Billa
Ch Bulldobas Whipper-Snapper
Ch Maya-Mayi