Australian Champion
Danish Champion
Swedish Champion


Pavlov landed in Sweden in March, 2014, after years of planning and preparation. He lived with Linda in Gothenburg with the basenji girl Katla. Pavlov was a very sweet boy and so easy to be around. He adjusted to any situation fast and was so cool and relaxed. Pavlov was born and raised in Australia, at kennel Zandeena. Thank you Millissa for trusting us with your boy, we love our Pavlov!
Born: June 26, 2011 ~ March, 2020
Breeder: Millissa Fox, kennel Zandeena, Australia
Owner: Linda Ottosson (& Therese Kindberg 2014-2018)
Pavlov has been a successful dog in the rings. He was Australian Champion and had many group placements including three group wins and not less than 24 Best Of Breed! First weekend out in Europe he became Danish Champion and at his first show in Sweden he gained the CC needed for his Swedish title. He also had two CACIBs from Sweden.
Pavlov was health tested with good results, he had clear eyes, good hips, is DNA tested CLEAR/NORMAL for Fanconi Syndrome and DNA tested NORMAL for PRA BJ1. He is the father of five litters; one in Australia, one in Norway and three in Sweden, including our "Galaxy litter".
Pavlov sadly passed away a few months before his 9:th birthday from cancer.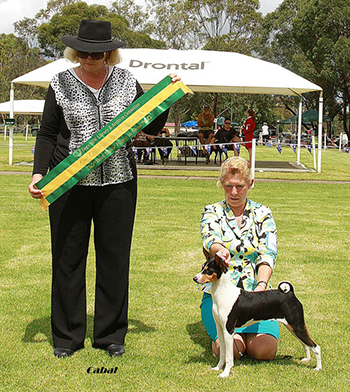 Show results:
24 x BOB
1 x BOS (from Sweden, has many more from Australia)
43 x CC, 420 points, from Australia
1 x CC from Sweden
1 x CC from Denmark
2 x R-CC
2 x CACIB from Sweden
2 x R-CACIB from Denmark
3 x BIG-1
2 x BIG-2
Australian Champion
Danish Champion
Swedish Champion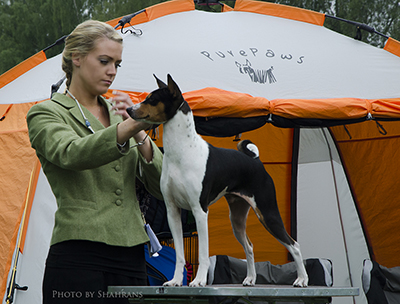 Health test results:
Eyes: CLEAR (2015)
Hips: Good
Fanconi Syndrome: DNA tested CLEAR/NORMAL
PRA BJ1: DNA tested NORMAL
Offspring:
Zandeena U Don't Know Jack
Zandeena U Gotta Have Faith
Zandeena U Play U Pay
Zandeena U Caught Me Bn Norty
Fawneèla Never Sleep - exp Norway
Fawneèla Show Girl - exp England
Fawneèla Black Jack
Fawneèla Jackpot - exp Spain
Fawneèla All In
Shahrans Tellus Your Secret
CC-winner Shahrans Miss Universe - exp Slovenia
SE CH Shahrans Big Bang
SE CH DK CH WP CH KBH JW-16 Shahrans Moonlight Shadow
SE JW-16 CC-winner Red-Hood
Need-For-Speed
Avalanche
Blizzard
Ice Crystal
Moonlight
NO CH Queen
Star
NO CH DK CH BIS Storm
Warrior
Ch Kanibaru Liquid Gold
Ch Wazazi Dazzling Impact
Ch Wazazi Perfect Dazzler
Ch Wazazi Hart Ofthe Savana
Ch Kanibaru Debonair Spirit
Ch Wazazi Perfect Dazzler
Ch Helios Final Fling
Ch Baagna Countess Nulaa
Baagna Bea Impy

Ch Tamsala Skulduggery

Ch Baagna Zats MyBaby
Ch Baagna Virst Topaz
Ch Azisha Buddy Boy
Ch Baagna Racy N Ravishing