Unoff. Swedish Lure Coursing Champion
Lure Coursing Basenji Of The Year 2008 - Sweden
Lure Coursing Basenji Of The Year 2007 - Sweden
LC Basenji Broodbitch Of The Year 2010 - Sweden
Basenji Bitch Puppy Of The Year 2006 - Sweden

Triss was a happy girl that yodeled every day! She was a very funny dog and super sweet. A fantastic mother that have loved every puppy she has ever been in contact with, all puppies were hers...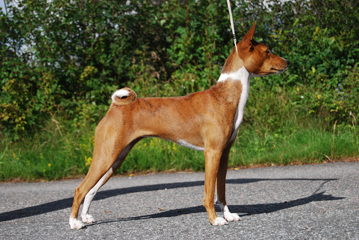 December 18, 2005 ~ October 27, 2020
Breeder: Maria Kindberg, kennel Shahrans
Owner: Therese Kindberg, kennel Shahrans
Triss has never really liked the show ring and has therefore not been shown since she was young. She has nice results though, such as BOB puppy, BOS puppy, BIS-placement in puppy class, she was Bitch Puppy Of The Year 2006 and has several CQs and placements in best bitch. Something that she does love is Lure Coursing and has done a lot of that! Triss was Lure Coursing Basenji Of The Year 2007 and 2008 and has many placements in Best In Field, BOBs and unoff CCs. She gained her champion title at the first try and has really been a great Lure Coursing dog - something that she has also inherited to her puppies! She has had three sons running and they all became Swedish (unoff.) champions very fast and made her Broodbitch Of The Year LC 2010! She is also mother of two Danish Lure Coursing Champions. Her kids have done very well in the show rings too and she is the mother of several Champions from different litters, PBIS- and SPBIS winners and Basenji Male Of The Year in Norway 2011. Triss is the mother of our "Lure Coursing" litter, our "Phantom Of The Opera" litter and our "Star litter".
Triss lived a long, healthy and happy life until 15 years of age. She is dearly missed and lives on in her children, grandchildren and great grandchildren. ♥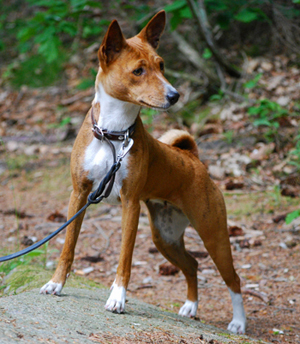 Show results:
1 x BOS junior/intermediate
Several CQs & placements in 'best bitch'
4 x BOB puppy
2 x BOS puppy
BEST IN SHOW 3 puppy - SSUK Borås nat. 2006
BIG-4 puppy - Åby unoff. 2006
#1 Basenji Bitch Puppy Of The Year 2006 - Sweden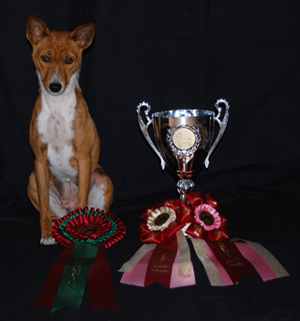 Lure Coursing results:
7 x BOB
4 x unoff. CC
Top-5 placements
Lure Coursing license
Unoff. Swedish Lure Coursing Champion
BEST IN FIELD 3 - Sjöbo 2008
BEST IN FIELD 4 - Simlångsdalen 2007
BEST IN FIELD 5 - Falköping 2008
BEST IN FIELD 5 - Sjöbo 2008
BEST IN FIELD 5 - Målilla 2007
#1 Broodbitch Of The Year LC 2010 - Sweden
#1 Lure Coursing Basenji Of The Year 2008 - Sweden
#1 Lure Coursing Basenji Of The Year 2007 - Sweden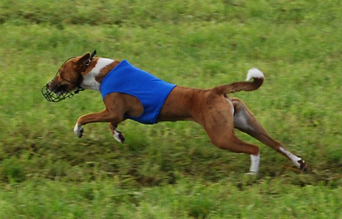 Health tests:
Eyes: CLEAR (2012), minor PPM (2008 & 2009)
Hips (HD): A / Excellent
Fanconi Syndrome: DNA tested CLEAR/NORMAL
Offspring:
CC-winner Shahrans Tally-Hoo
DK LCCH SE LCCH CC-winner Shahrans Incredible Speed
SE LCCH Shahrans Racer In Red
DK LCCH SE LCCH Shahrans Muzzle's Gone
Shahrans Little Lure Wise In Pj's - exp Finland
Shahrans Music Of The Night
Shahrans Think Of Me
NO CH SE CH DK CH NORD CH KBH W-13 Shahrans Phantom Of The Opera - exp Norway
Shahrans Angel Of Music
Shahrans Blue Star
NO CH DK CH Shahrans Wish Upon A Star - exp Norway
SE CH DK CH SE JW-13 NO JW-13 PBIS SPBIS Shahrans Starlet
Ch Azania's Sundancer In Kabalo
Ch Kwanza's Tiger Shark
Ch Sternhimmels Jobber Jochim
Ch Zindika's Danzanita
Azania's Isetta
Ch Azania's Ilario
Ch Azania's Isadora
Ch Shahrans Aritza
Ch Faraoland Esenjo Rafhael

Ch Akuaba The Cat's Pajamas

Ch Nectar Suprem Out Of Africa
LCCh Yulara Gwai-Billa
Ch Bulldobas Whipper-Snapper
Ch Maya-Mayi