Danish Lure Coursing Champion
Swedish Lure Coursing Champion (unoff.)


Muzzlan is a funny little boy with a lot of energy! He is a real clown and has to do everything in his own way. He is not a quiet basenji as he yodels, howls and even barks... He loves to cuddle and is a very funny boy who loves his family.
Born: December 27, 2007
Breeder: Maria Kindberg, kennel Shahrans
Owner: Therese Kindberg, kennel Shahrans
Muzzlan has never really liked the show ring and has therefore not been shown much at all. He had a wonderful puppy year though with best male puppy 4-6 months at the Norwegian specialty and 2:nd best male puppy at the Swedish specialty, both times judged by breed specialists, and has BOB puppy, BOS puppy and finnished off with a BEST IN SHOW puppy before he turned 9 months old. Something Muzzlan loves is Lure Coursing and he has done very well on the fields. He has several BOB and was the first basenji in Sweden to become Danish Lure Coursing Champion. He is also Swedish (unoff.) Lure Coursing Champion. At 11 years of age he is retired from the fields but is still very a very fit, active and healthy boy.
Show results:
Shown with Excellent
1 x BOB puppy
1 x BOS puppy
BEST IN SHOW puppy - SK Varberg unoff. 2009
Best male puppy 4-6 months - Norwegian nat. Basenji specialty 2009
2:nd best male puppy - Swedish nat. Basenji specialty 2009
Lure Coursing results:
1 x BOB
3 x unoff. CC from Sweden
2 x CC from Denmark
Top-5 placements
Lure Coursing license
Danish Lure Coursing Champion
Unoff. Swedish Lure Coursing Champion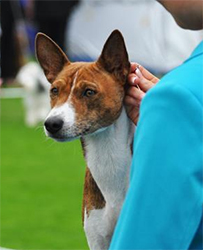 Health tests:
Eyes: CLEAR (2009 & 2011)
Hips (HD): A / Excellent
Fanconi Syndrome: Probably clear/normal
Ch Faraoland Saga Zulu
Ch Faraoland Nile Wild Nebukadnessar
Ch Faraoland Hadiyah Out Of Africa
Ch Indian Summer Out Of Africa
Saga Out Of Africa
Avongara Imba Tena
Ch Main Attraction Out Of Africa
LCCh Shahrans Rafhaela In Pj's
Ch Azania's Sundancer In Kabalo

Ch Kwanza's Tiger Shark

Azania's Isetta
Ch Shahrans Aritza
Ch Faraoland Esenjo Rafhael
LCCh Yulara Gwai-Billa