Swedish Champion
Norwegian Veteran Winner 2011


Raffe was our first male, the clown of the family and the dog who never got old. He was a very funny dog. Up until the day he passed away, at 13 years of age, he never had a sick day and in his mind he was always a puppy.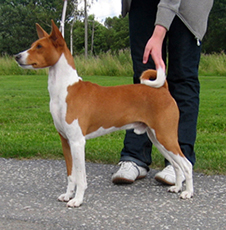 December 18, 2000 ~ October 29, 2013
Breeder: Helena Strömbert, kennel Faraoland
Owner: Maria Kindberg, kennel Shahrans
Raffe was 25% new African with an American father and a French mother. He became father of our first litter and also sired a few more litters in Sweden. He has children and grandchildren all over the world and produced champions and Lure Coursing champions from several litters.

Raffe 12,5 years old
Raffe entered the ring for the first time when he was five months old and was BEST IN SHOW puppy. Since then he has some very nice winnings in the rings such as BEST IN SHOW at the African Match at the Swedish nat. specialty 2005, BEST IN SHOW 3 at at national show in Borås 2003, several BEST IN SHOW veteran placements including BIS veteran and the Swedish Westcoast's most beautiful veteran - all breeds - 2010. He earned his Swedish Champion title soon after turning 2 years of age. To finnish off his career he was BOS veteran 10+ at the Swedish nat. specialty 2011 and Norwegian Veteran Winner 2011, at his last show, 11 years old. In younger days he was also a very good Lure Coursing dog and has BOB and several unoff. CCs on the fields.
Health test results:
Eyes: CLEAR (2011 & 2010), minor PPM (2007, 2005, 2004, 2002)
Hips (HD): A / Excellent
Fanconi Syndrome: DNA tested CLEAR/NORMAL
Show results:
2 x BOB
1 x BOS
1 x CACIB
3 x R-CACIB
3 x CC
1 x BOS junior/intermediate
5 x BOB veteran
7 x BOS veteran
CQ & placements in 'best male'
BEST IN SHOW 3 - SSUK Borås nat. 2003
BEST IN SHOW veteran - VKK Västkustvalpen inoff. 2010
BEST IN SHOW 2 veteran - SKK Borås nat. 2010
BEST IN SHOW 4 veteran - SSUK Borås nat. 2009
BEST IN SHOW 5 veteran - SKK Ronneby int. 2009
Swedish Champion
Norwegian Veteran Winner 2011
Swedish West Coast's most beautiful veteran - all breeds - 2010
BEST IN SHOW African Match - Swedish Specialty nat. 2005
BOS veteran 10+ - Swedish Specialty nat. 2011
#1 Basenji Veteran Male Of The Year 2009 - Sweden
3 x BOB puppy
1 x BOS puppy
BEST IN SHOW puppy - Gothenburg unoff. 2001
BEST IN SHOW 4 puppy - Gothenburg unoff. 2001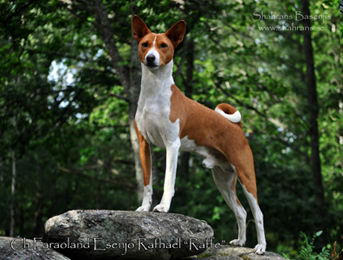 Lure Coursing results:
1 x BOB
2 x unoff. CC
Top-5 placements
Lure Coursing license
BEST IN FIELD 5 - Torup 2005
BEST IN FIELD 2 unlicensed - Hjältevad 2005
Offspring:
SE CH Shahrans Haluzi
Shahrans Gambito
SE CH Shahrans Aritza
SE CH SE LCCH Shahrans Zombifa
SE LCCH Shahrans Arifzo
Kincha's Runner In Sunrise
Kincha's Rambler Of Sunrise - exp Latvia
Kincha's Choice Of The Sunrise
IT CH Kincha's African Sunrise - exp Italy
Kincha's Clarity Sunrise
Lucky Swede's Gold Sun
Lucky Swede's Gold Zone
Lucky Swede's Gold Shine
Lucky Swede's Gold Love
Lucky Swede's Gold Star
Lucky Swede's Gold Dragon
Nganga's Marilyn Monroe
SE CH NORD JW-12 DK JW-12 Nganga's Clint Eastwood
CC-winner Nganga's Humphrey Bogart - exp Turkey
CC-winner Nganga's James Dean - exp Norway
Nganga's Marlon Brando
CC-winner Nganga's John Travolta
Nganga's Greta Garbo - exp Germany
Wild Pearl's Bounty Of Rafhael
CC-winner Wild Pearl's Blake Of Rafhael - exp Australia
Wild Pearl's Bronx Of Rafhael
Wild Pearl's Benji Of Rafhael
Boxzent's Merry Christmas
Boxzent's Santa Claus
Boxzent's Christmas Gift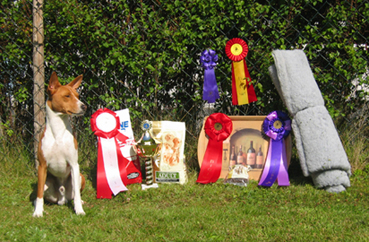 BEST IN SHOW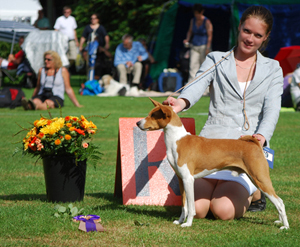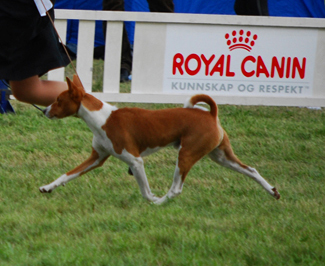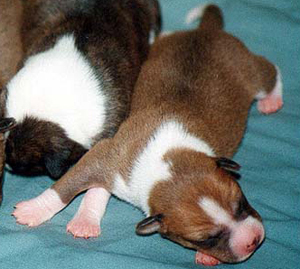 Ch Akuaba The Cat's Pajamas
Elija Of Esenjo
Ebo Of Esenjo
Efe' Of Esenjo
Ch Akuaba's Tiger Lily
Avongara Gangura
Ch Akuaba's BJ Tempest
Ch Nectar Suprem Out Of Africa
Ch Hot Stuff Out Of Africa

Ch Serengeti Cool Jazz Of Woz

Ch Akuaba Dances To Terrarust
Ch Magic Potion Out Of Africa
Ch Astarte's Yankee Out Of Africa
Ch Indian Summer Out Of Africa