Pim Pim was exported to England and lives with Jessica at kennel Silverbriar together with other basenjis. He is a very sweet boy that stayed with us until 4 months of age.
Born: December 16, 2013
Breeders: Maria Kindberg & Therese Kindberg, kennel Shahrans
Owner: Jessica Baker, kennel Silverbriar, UK
Pim Pim has done very well in the show rings despite limited showing. He has BOB, BOS, two Crufts qualifications, was BOS puppy at a basenji specialty show in tough competition and has a group win and Reserve (2:nd) BEST IN SHOW at 8 months of age! He also has many BOB puppy and Group placements as a puppy. Pim Pim is the father of three litters at kennel Silverbriar.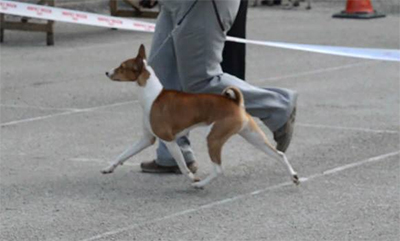 Health test results:
Fanconi Syndrome: DNA tested clear/normal
PRA BJ1: DNA tested carrier
Thyroid: Normal (2014)

Pim Pim going BOB puppy, BIG-1 puppy, BEST IN SHOW puppy,
BOB, BIG-1 and BEST IN SHOW 2 at Monmouth County show 2014!
Show results:
1 x BOB
3 x BOS
2 x BOB junior
7 x BOB puppy
3 x BOS puppy
Qualified for Crufts 2022
Qualified for Crufts 2020
Qualified for Crufts 2016
Qualified for Crufts 2015
Qualified for South Wales Dog of the Year competition 2014
BEST IN SHOW - Local Club show 2016
BEST IN SHOW - Local Club show 2014
Res. BEST IN SHOW - Monmouth County show 2014
BIG-1 - Monmouth County show
BEST IN SHOW puppy - UK Windsor Championship Show
BEST IN SHOW puppy - Local Club show 2014
BEST IN SHOW puppy - Monmouth County show 2014
BIG-1 puppy - Monmouth County show 2014
BIG-1 puppy - Unoff. show 2014
BIG-2 puppy - Newport show 2014
BIG-2 puppy - Treharris show 2014
BIG-4 puppy - Bedford show 2014
1:st in Minor puppy stakes - Welsh Championship show 2014
5:th in Minor puppy stakes - Leeds Championship show 2014
5:th in Puppy stakes - Richmond Championship show 2014
3:rd in Hound puppy stakes - Paignton show 2014
3:rd in Junior stakes - Welsh Championship show 2014
Best Dog Puppy & BOS puppy - Northern Basenji Specialty show 2014
Best minor dog, Best undergraduate dog puppy, Best Not bred by exhibitor in show - Northern Basenji Specialty show 2014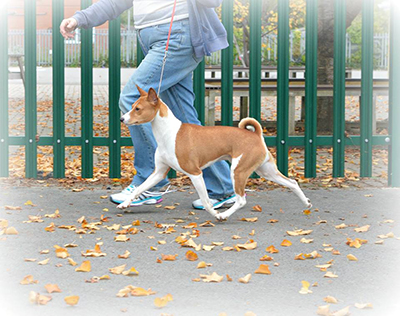 Offspring:
Silverbriar Persephone
Silverbriar Badger
Silverbriar Mr Universe
PBIS Silverbriar Adelei Niska
Silverbriar Higgins
Silverbriar Hoban
Silverbriar Serenity
Silverbriar Atherton
Silverbriar Reaver
Silverbriar Shinon
Silverbriar Jubal Early
Silverbriar Honeydew Boo
Silverbriar Kamari
Silverbriar Cooper Ryan
Silverbriar Ludwig
Silverbriar Finlay
Silverbriar Leonidas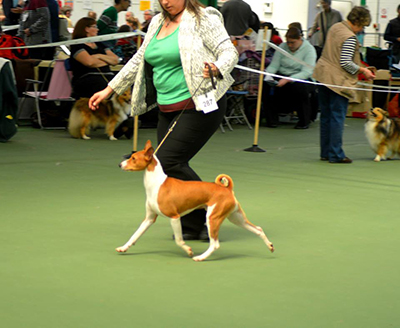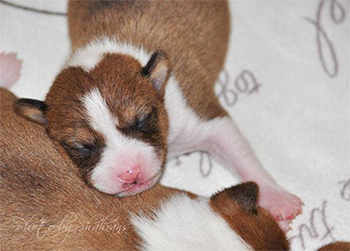 Ch Dipop Red Dancer
Ch Meisterhaus Tail Of Intrigue
Ch Jasiri-Sukari White Collar Crime
Ch Undercover Bojak's Caitlan
Wazin Red Bonnie
Ch Wazazi Dazzling Image
Ch Furahan Weusi Waridi
Ch Kimwitu's Zolotaya
Ch Wakili Signet Gianni Versace

Ch Arubmec's Hi-Jacked

Ch Signet After Hours Party
Ch Jasiri-Sukari Pup Music
Ch Meisterhaus Politically Correct
Ch Sukari-Jasiri Soda Pup