Swedish Champion
Norwegian Champion
Danish Champion
Nordic Champion
International Champion - C.I.B
Copenhagen Winner 2011
Swedish Winner 2011
Norwegian Winner 2011


Conny is a very handsome Danish guy that that came to Sweden with his sister Zolo during the summer of 2010. He lives with Anna and her family at kennel Fawneèla, and was co-owned by Therese from 2010-2016. Conny is a special boy that we are very thankful for and that we still have the pleasure of showing and meeting quite often. He is and will always be special.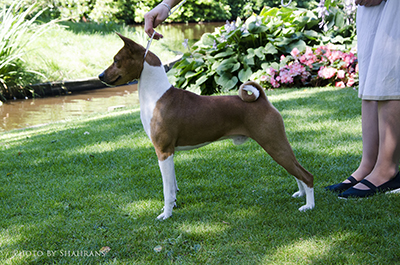 Born: December 13, 2009
Breeder: Annemari Nielsen, kennel Kimwitu, Denmark
Owner: Anna Söderholm (& Therese Kindberg 2010-2016)
Conny has done great in the rings winning many BOB, BOS, CCs, CACIBs, Group placements (including two Group wins on international shows), BOS at the Norwegian Specialty, best mover at several specialty shows and BOB puppy at the World Dog Show. He has champion titles from Sweden, Denmark and Norway and winner titles from that same countries.
Conny is the father of three litters (including our "Rollercoaster-litter") and his puppies have done amazing in the rings despite young age. Being father of Basenji Of The Year in Finland 2015, Basenji Of The Year in the Netherlands 2015, Basenji Puppy Of The Year in Finland 2014, father of four Specialty BEST IN SHOW winners and 8 champion kids (out of 9 ever shown) he is now retired from breeding.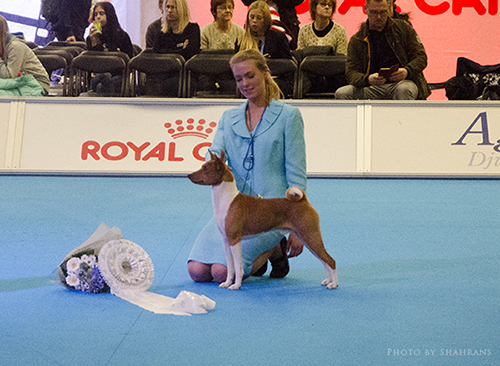 Show results:
8 x BOB
8 x BOS
12 x CC
6 x R-CC
11 x CACIB
1 x R-CACIB
1 x BOS veteran
1 x BOS junior/intermediate
CQ & placements in 'best male'
BIG-1 - SKK MyDog int. show 2016
BIG-1 - SKK Malmö int. show 2011
BIG-2 - SKK Hässleholm int. show 2011
BIG-4 - SKK Tvååker nat. show 2011
1 x BOB puppy
1 x BOS puppy
BOB puppy - WDS World Dog Show int. show 2010
BOS - Norwegian Specialty nat. show 2013
Best mover - Norwegian Specialty nat. show 2013
Best mover - Swedish Specialty nat. show 2014
Selected to compete for 'Best head' - Swedish Specialty nat. show 2014
Selected to compete for 'Best head' - Swedish Specialty nat. show 2011
Selected to compete for 'Best movement' - Swedish Specialty nat. show 2014
Swedish Champion
Norwegian Champion
Danish Champion
Nordic Champion
International Champion - C.I.B
Copenhagen Winner 2011
Swedish Winner 2011
Norwegian Winner 2011
#2 Basenji Male Of The Year 2011 - Sweden
Offspring:
Fawneèla Miss Fortuna
Fawneèla Give Me A Brejk
Fawneèla Gold Dukat
Fawneèla Never Stop
FI CH Shahrans Ladybird - exp Finland
Shahrans Sky Rocket
NO CH CRO CH Shahrans American Eagle - exp Norway/Croatia
RU CH BLR CH EST CH RKF CH C.I.B BLR GRCH RU GR CH RU CCH RU JCH BLR JCH EST JCH
BLR JW-13 BLR W-16 MBISS Shahrans El Bandito - exp Russia
LUX CH LUX JCH PBIS Shahrans Apocalypse - exp France
Shahrans Lil' Dipper
FI CH SE CH FI W-15 HE W-15 SBIS SPBOS SPBIS Faraoland La Vie En Rose - exp Finland
MON CH PL CH MON GRCH LV JCH Faraoland Guns N Roses - exp Latvia
Faraoland Luciano The Starsinger
RU JCH RU CH RU GRCH RU CJCH RU CCH CZ JCH RKF CH RFLS CH SBIS SPBIS PBIS Faraoland Ibra The Starplayer - exp Russia
LUX CH BG CH LUX JCH DT JCH BNLX JCH BG JCH AM JW-14 AM W-14 BIS SBIS PBIS Faraoland On A Bed Of Roses - exp Belgium/England
Ch Wakili Signet Gianni Versace
Ch Arubmec's Hi-Jacked
Ch Arubmec's Encore
Ch Arubmec's Saturn Sattelite
Ch Signet After Hours Party
Ch C-Quest's Just Push Play
Ch Signet Hootenanny
Ch Jasiri-Sukari Pup Music
Ch Meisterhaus Politically Correct

Ch Meisterhaus Egoiste'

Ch Undercover Natual Grace
Ch Sukari-Jasiri Soda Pup
Ch Jasiri-Sukari Juri Seinfeld
Ch Jasiri-Sukari Taboo